Long time no blog about clothes hey!
I've been feeling uninspired recently and just need to get my fashion butt in gear basically! I had a bit of a splurge recently which was lovely.

As it's Thursday I thought I would do my Thrifty Thursday seen as I haven't in forever. This top has already made an appearance HERE but it's still a firm favourite.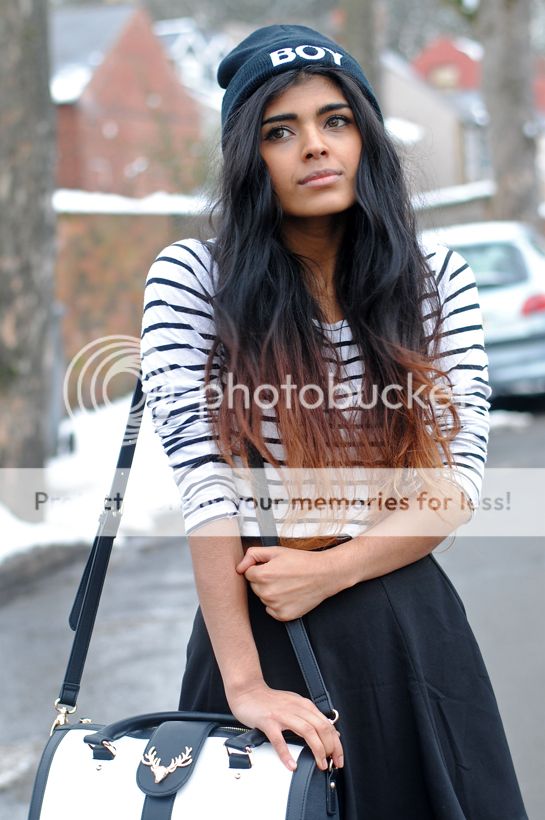 H&M stripe crop top, carboot - £1
Black Skater Skirt, c/o Romwe
'Boy' Beanie, Ebay - £7.99
Double platform studded suede creeper lookalikes, ebay - £19.99
Stag Head Monochrome Bag, Accessorize - £45*

*I used this bag as part of a segment on Accessorizes blog and gave it back afterwards.

Can I also say that yes. There is snow in the background but no, it isn't snowing. I took these photos as part of a piece with Accessorize, and it was snowing at the time. Isn't the bag FREAKING AMAZING? I might have to cheekily purchase it as I got quite attached when it was in my possession for the few days of photo taking! Its pretty big too!

Take a look at how I styled a few accessorize things to fit with the monochrome trend HERE!

Hope you are all fabulous!
It's March tomorrow - someone please tell me where the months are going? :-(

PSSTTT.. I found this top on sheinside for $31 (so around £20!)
I know a few people were lusting after my batman lazy oaf shirt and it's now sold out almost everywhere - so if you are after a batman print I would recommend this! Would totally get it if I didn't have my shirt. They aren't paying me to say this or anything I just thought I;d give you guys a heads up!




Sheinside Batman Jumper, £20 - CLICK HERE!

| Facebook | Twitter | Lookbook | Pinterest | Tumblr | Instagram | Bloglovin |

♥