Day two meant I overslept as I was in my incredible Premier Inn bed, I was so warm and snuggled I didn't want to leave! However, I did, and rocked up to fashion week for about 11? Maybe 12, but fairly late!

The photos aren't the best as they were taken at Vauxhall Fashion Scout and were very rushed. I also basically threw this outfit on from what I had brought and is the only outfit I hadn't planned beforehand. I didn't think it would be that interesting but people seemed to like it and I ended up loving it!






BOY Black And White Snapback Cap, Ebay - £13.99
Black crop top, c/o Missguided
Black Skater Skirt, c/o Romwe
Faux Leather Biker Aviator Jacket, c/o Missguided
Clear Perspex See Through Clutch, Ebay - £12.99
Black UNIF Hellbounds, Gift via Nasty Gal!

I then spotted lily looking amazingg in a gorgeous blue outfit, and chatted to her for abit! After a little bit of wandering I found Laura and Jodie, and we had a good natter and chill before deciding what to do. We saw Victoria, Mark Francis & Amber Atherton from made in chelsea chilling in Somerset house so I quickly and slyly took a photo!




We wandered around and bumped into my favourites shope and shore, who looked amaaaazzzziiiinngggg <3 We all matched aswell which is always a plus! We then ran into Lauren, who is one of the nicest people you will ever meet! We had heard that UGG had a lovely little suite in the ME hotel and took a little trip to sit down (my feet were definitely hurting by then!) and the place was INCREDIBLE.


A few champagnes and relaxation later I popped back to Somerset house with everyone to chat and hang out when I spotted one of my favourite bloggers/lookbookers of all time. Juliette from Maffassion! I saw her take a picture of ME, and I couldn't believe it! Shes incredible, you probably recognise her from everywhere on the internet and she is super duper nice and was just amazing! And I then saw Alice who I'd met previously at a photoshoot with Company Magazine who was also lovely!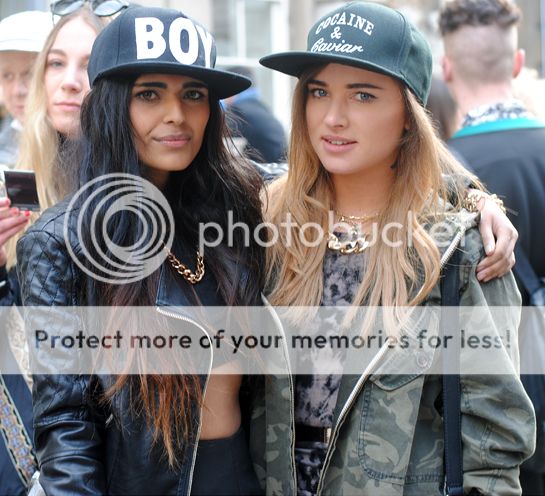 I then hopped into a RICKSHAW courtesy of temp cover who had a few for us bloggers in between shows - lifesavers for my feet! As we got to the shows at Vauxhall Fashion Scout it was freezing and the shows were running late, and I had a MAC makeover appointment for 5:30 so I got a rickshaw back and got my makeup did!




I don't have a photo of after except on my instagram, but my lips looked sooo good, and the goodybag was so lovely I loved it! I then wandered back to the UGG suite and had a cup of tea and just relaxed after being freeezing, and the view at night was amazing! AND VICTORIA BECKHAM was in the building for the Woolmark event! Oh my god! We could see her through the glass on the balcony it was so surreal! I then left and saw Conor Maynard chilling in the lobby as there was a huge party going on - crazy!




We then left tired and full of bubbles, and a new pair of ugg slippers (thankyou so much to ugg they are amazing!) I am not a massive ugg fan usually but the slippers are comfort on another level - just what my feet needed after a manic fashion week!




That was my fashion week day two!
Hope you are having a great week and tune in tomorrow for day 3!

| Facebook | Twitter | Lookbook | Pinterest | Tumblr | Instagram | Bloglovin |

♥