In advance, sorry for always talking about carboots and such. I don't like to 'brag' or whatever, It's because I want more people to shop there. I think shopping second hand is so much better for the environment and so much easier for your wallets! :) I am in the process of a guide on carbooting, It's hard cause I'm not really an expert.. I just look for things in depthly! But it's in the works.



I told you on my last post I wanted shabby chic stuff, OH MY! I feel so lucky to come across this grm. I've been ebaying for one and they come up for £60 + and I just haven't got the money right now. My mum is going to hand paint it cream, but its actually stunning. The price? £2. Absolute utter bargain. Out of everything I've ever bought (hey, you guys know thats ALOT!), this is probably my best bargain and my favourite :)




The blue bag is oh so vintage! I really like it, It's one of those items thats hard to pair with an outfit, it's also kinda hefty. But I'll figure it out. Plus, 50p? Why not! The lace white top on the right was £1, I love the lacey bit at the top, it's perfect. The black and white check shirt is not really baggy its sorta just normal, but it was £1 and I will pair is with some converse and skinny jeans for a casual day (I do have them!) - I know you love me rocking my primark pj's in the first pic ;)




First of all, the pictures for these are just AWFUL. I don't know why they came out so bad. Anyway, The first is a primark ruffley dress with a bow, it was only £2. I know I have a million party dresses but theres something about this one. The second.. is B-E-A-U-T-I-F-U-L! It's river island, was £1.50 and it is the most vintage-esuq girly beautifully detailed dress I have ever seen :') I wish the picture came out better but yeah, It's a beauty!



I spend 99.5% of my time in pyjamas at home, and the set cost 50p. They're so so cutee and I love primark pyjamas. They're so fleecy and pretty and great for winter. The shoes were also 50p.. which is amazing. They're so NEW and they're shoes! They aren't my style, I got them for my sister. But they were an amazing bargain.




The bag was 50p :| HOW AMAZING?! Topshop have one similar for like, £25? It reminds me of Alexa Chung and It's perfect with everything. The shirt I'm wearing was £1 and Is a shirt dress kinda thing. The belt, you've seen a million times before ;) Well This is what i wore to school. I cut off my face cause I hadn't put my make-up on and you know, you don't wanna see that sorta thing!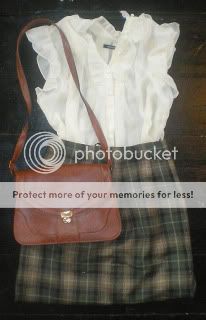 Bag - 50p, St Michael skirt - 50p, Primark Blouse - £1.00, OUTFIT TOTAL = £2
Okay so one day I hope I'm brave enough to wear it to school. It's the vintagest outfit I could have pulled together. The amazing part is they're all from the one carboot trip.. and I didn't even know they'd all go together! The skirt is long, i've just folded it in the picture. My mummy will be shortening it though. The blousey top is just very pretty and the bag well, you know how I feel about that!

I guess that's it! I was amazingly happy with what I got.. there's more stuff but I didn't think it was important enough to clutter this post with loads of pictures. Plus, some of them are going on ebay, so be sure to check them out.
If you follow me on twitter (if you don't, you should!) you may have seen my excitement of our first official sale of an item! I'm so so happy and also a little upset the beautiful dress is gone :'( But not to worry, you have a post about our packaging and new business cards to look forward to.

Sorry that this post is about me again. I'm doing a tutorial on the pocket watch necklace and on customising school folders oh so soon.. so please be patient with me.
Thankyou, genuinely, for your lovely comments. I ALWAYS try and comment back and I love you commenting, just cause I love browsing through your gorgeous blogs :)

TOTAL AMOUNT SPENT - £16
(L)